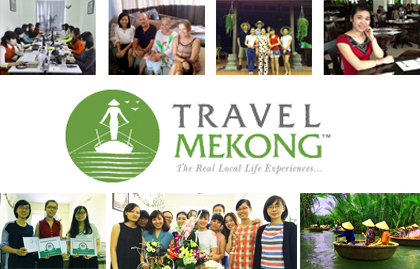 About Us
TRAVEL MEKONG™ team is proudly a part of Happy Travel Group - the leading Mekong tour operator with over 10 years of experience in organizing private and escorted tours, quality cruises for couples, families and groups with selection of luxury, deluxe, budget and charter cruises.
Being the locals, we know the true value of our land. Luxury Mekong River Cruises is the collection of the best choices to discover Mekong river delta. There are so many choices for you with the luxurious and comfortable services + best offers... Everything will give you special feelings and unforgettable time in our beautiful land.
TRAVEL MEKONG™ commits to bring the best quality services and take the best care of clients. From your first email or call to the moment when you take a return flight are always taken into consideration at aimed of bring you the most joyful and pleased time of travelling in Vietnam, Cambodia and Laos.
Why book with us
AUTHENTIC EXPERIENCE OF TRULY NATIVE VALUES
We are proud to provide Mekong tourism products with true experiences of real local culture, native custom, regular habit, regional cuisine and indigenous community.
WIDE RANGE OF TRAVEL SERVICES
We offer a wide variety of travel services ranging from fly-and-drive tours, cruise tours, group tours, customized tours, escorted tours to airline tickets, train tickets, hotel bookings, car and coach rentals, and more.
TRUSTWORTHY
TRAVEL MEKONG™ commits to making any necessary efforts to satisfy every single customer. Wherever you want to go or however you wish to travel in Vietnam, Laos, and Cambodia, we are always ready to assist.
* Timely response with professional advice
* 24/7 availability to help ensure you travel as planned
* Detailed information
* Real value for money to pay
* Money back service guarantee
* No hidden cost
* No Forced Shopping trips
* No Tourist Traps on tour
* Maximum Flexibility to change the itinerary or add extra service (not applicable to organized join-in tours with fixed schedule)
* Flexible quality control. Ifany unexpected circumstancehappens (such as delay of your aircraft, cancellation of the flight…etc), we shall contact you immediately and help make other arrangements so that your tour will not be affected as much as possible. If you would like to interrupt your trip, we will refund your money for the unused services.
COMMITMENT TO CUSTOMER SERVICE THROUGH PROFESSIONAL TEAM
We are flattered to have our name on the list of leading Mekong tour operators staffed with professional and experienced Sales, Product, Customer Service, IT teams and Guides.
These active staffs are frequently trained to quickly update information, understand customer's psychology and they are always willing to share and satisfy all your needs.
Working with youth and the spirit of genuinely enthusiastic, we kindly provide our customers correct and timely consultations. We commit to bring you the best choices according to our motto: "Your vacation is our devotion".
COMMITMENT TO QUALITY WITH OVER 15.000 HAPPY TRAVELERS
We always believe that today's success is built by yesterday's effort. We pay attention to even the smallest details of the services and regularly organize trips to investigate the real conditions of destination, accommodation, restaurants, ships… to make sure that these services are always in their best status and ready to serve you.